After Kyoto, we headed south to Onomishi. Our plan was to bike the 75 km Shimanami Kaido from Onomishi to Imabari. The Shimanami Kaido leads across the six islands of Mukaishima, Innoshima, Ikuchijima, Omishima, Hakatajima and Oshima, before terminating on Shikoku in Imabari City. There is a dedicated bike lane throughout the route and a trust based bike rental system that allows you to pick up and drop off bikes at multiple locations along the route.
To get to Onomishi, we took a Shinkansen from Kyoto and then transferred onto a local train. Onomishi is a small town in Hiroshima prefecture transitioning from industry to tourism. After wandering the empty market and getting turned away from an Izakaya joint that did not want to serve us (we are full they told me as I looked into an empty restaurant), we found a small restaurant serving local seafood. It was staffed exclusively by women. The matron had pink hair and a huge outgoing personality that was the opposite of the stereotypical shy Japanese woman. The food was good and people seemed less formal than they did in the larger Japanese cities we had visited.
We stayed at the U2 Bike Hotel, an upscale hotel in converted warehouse with a West Coast feel to it.  After checking in, we forwarded our big packs to our next destination- Matsuyama. The U2 is geared to the cycling crowd. There are bike racks inside the rooms, pyjamas instead of robes and a late model washlet which is a:
Washlet (ウォシュレット Woshuretto) ….  electric toilet seats with water spray feature for anal and genital cleansing.
The U2 washlet had features only a cyclist could love including "eco flush" "flush" "oscillate" and "pulsate".   I have to admit I tried them all and liked pulsate the best and the eco option allowed me to be a responsible tourist.  After the missing toilet seats in Peru and squat crapping in the Ethiopian mountains, it was a pleasure to sit on a warm toilet seat and with a push of a button have a jet of warm water zero in on the area of interest and cleanse.
Washlets are big in Japan, you can find them on trains, in pubs and hotels. There are different options, some will play the sound of water for encouragement or loud music to cover your groans for privacy. J apan is one of the most advanced industrial nations in the world, so it is not surprising that they would have advanced toilets.  However, you have to wonder whether their precision guided pulsating water jet system is overkill. Can it be said that the washlet is the culmination of the Meji Restoration, modernization, and post WW2 rebuilding?  The Japanese have vanquished poverty and pushed back the sea. Have they now have turned their sights on hemorrhoids?
To be fair Japan is not the only modern industrial country to take excessive interest in what happens to food on the way out. Back home in Canada, we have quilted toilet paper with kittens on the cover. Here is another example offered by the presumptive Republican presidential candidate.
No I did not make that up but maybe someone else did.  But seriously when you think of  what the money saved on simpler toilets and toilet paper could be use for in poorer countries.
After dinner we had our Booking.com welcome drinks in the hotel lounge and chatted with a Dutch couple that had biked over from Imabari. The next morning, I picked out our rental bikes and paid the 3000 yen ($30) rental and drop off cost. After crossing over to the first island on a ferry, we found the blue line on the road indicating the bike path that would lead us on our 76 km journey to Imabari.
The day was clear and crisp. The route passed mostly through rural areas where we saw cabbage fields, orange groves and farmers tilling small fields.  We also saw ship yards, solar panel farms, buddhist temples and  7-11's.  There were dedicated bike lanes and access ramps for each bridge. Up close on a bike, you could appreciate the level of engineering and thoughtfulness that goes into the roadways and bridges. The only thing that seemed to be missing was traffic. The bridges were not very busy and on some of them lanes appeared to be permanently closed.
In one town we stopped at a "Lawson Station" convenience store for rice balls and fried chicken. In the parking lot we saw a group of workers dozing off in their mini-van with the motor running
separate access ramps for bikes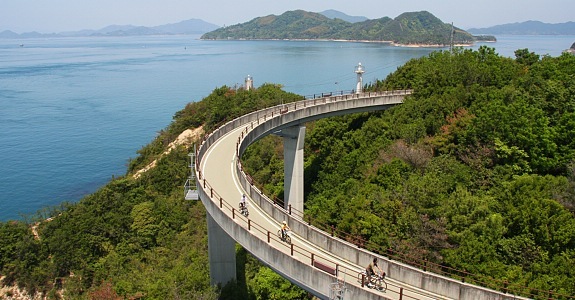 route map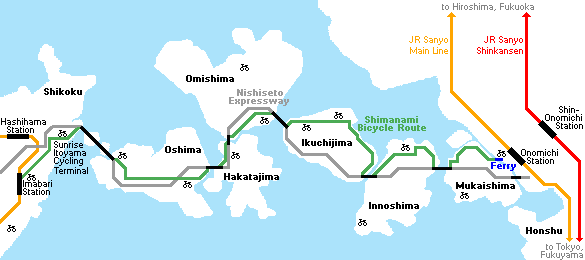 We stopped along the way in various towns for local snacks like deep-fried octopus and oranges. We got to see a non-touristy side of Japan up close and at a slow pace. There were rest stops full of young Japanese cyclists re-fueling on rice balls and ramen.
Passing over the bridges it occurred to me that the pride of Japanese technology was not the washlet toilet but the  infrastructure. From high-speed trains and vaulted multi-level train stations to elegant bridges that cross inland seas. In our travels around Japan we were amazed by the infrastructure.  People celebrate the completion of new Shinkansen lines (Bullet train).   On the bike ride we got to see examples up close as we biked over at least 9 bridges, including a suspension bridge with 6 towers. These projects would make Christy Clark (BC Premier) weep with envy.  Here is a video of biking
When I was a kid I loved travelling on the Decarie Expressway in Montreal with its multi-levels of flyovers taking cars in  different directions over the escarpment at the Turcot interchange. From the back seat of our Chevrolet Caprice, it felt like we were flying.  My late father z'l would curb my enthusiasm by saying that eventually everything breaks and the more complicated the thing, the more complex the repairs. I scoffed at his buddhist like statement. I was young and to me elevated expressways were the future. Turns out he was right.  After 50 winters the Turcotte Interchange is crumbling. The flyovers are falling apart as salt makes the rebar rust and expand sending chunks of concrete off onto cars below.  Turns out the better future may be in bike lanes and metros. For more on the expressway past and future read this article from Maisonneuve magazine on The Turcot Expressway.
We did not see any exposed rebar in Japan but I wondered what the bridges will look like in 50 years. Will the Japanese be able to maintain their infrastructure or will it crumble?  The recent experience with Fukushima nuclear plants shows that even the Japanese may have challenges in maintaining complicated systems. I was woken from my musing by a scream of  "Papi pay attention" and was reminded me to stop worrying about the future and to just enjoy the ride.
Copyright secured by Digiprove © 2016